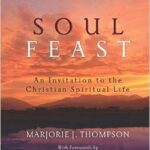 Have you ever forgotten how much you enjoy a particular food until you've had it again? Whether it's days or years between, you think, "Hmm, why don't I eat this more often?" The servings that Marjorie J. Thompson offers in her Soul Feast: An Invitation to the Christian Spiritual Life are like that: Why don't I do this more often?
Originally published in 1995, this third edition offers practical and doable practices for a complete spiritual life. Each offering is an important part of the full soul, just as food offered at the table fills the body.
Ms. Thompson gives the reader a complete guide to moving toward a Spirit-led life. With each practice, she gives the reason and a way to add or bring back a tradition to our lives. Whether it's a more complete prayer life or fasting, the author guides the reader gently along.
Don't use the old, tired excuses for why you can't take up particular Christian exercise. Ms. Thompson seems to have heard them all. She offers suggestions that even the newest and shyest of the Christians can get started with. Like a loving parent of a child who doesn't want to eat peas, she offers alternatives. At the same time, the reader is given no excuses for leaving the table.
The ten chapters begin with the appetizer of satisfying our spiritual yearnings, go through the various courses of the meal, until you get your dessert, developing your own rule of life based on the principles you have learned. Don't think that Ms. Thompson is going to tell you how to run your life. Instead she guides you to develop your own rule. The book concludes with a group study guide, which an individual can use as well.
Like other good books to keep us on our spiritual road, Soul Feast is not to be read and left closed on the shelf. I know I will be returning to it again and again with the goal of continuing to nourish my soul. After all, we don't just have one meal in our life. We need to constantly return. I'll be coming back for those dishes for reminders of how good they taste.
Soul Feast: An Invitation to the Christian Spiritual Life
Newly Revised Edition
Marjorie J. Thompson
Westminster John Knox Press