I'm full of joy. I mean full to overflowing. Oh, how I long to share my joy. But few would accept it.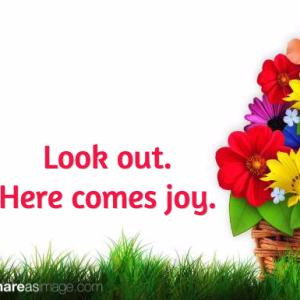 You see my joy has come in trials and tribulations. James, the brother of Jesus, wrote,
Consider it pure joy, my brothers and sisters, whenever you face trials of many kinds, because you know that the testing of your faith produces perseverance. Let perseverance finish its work so that you may be mature and complete, not lacking anything (James 1:2-4 NIV).
Daily since New Year's Eve we have had little things happen; three of them on New Year's Eve. You would think that would be the end of it. You know the last day of year and all. Nope, it just kept going and going – daily.
I actually started to pray, "You know, God, I've got about as much joy as I can handle."
How often though do we blame our trials on the enemy? We give all the credit to Satan, instead of God. Sometimes, though, God has a better plan for us. All we have to do is accept it, trials and all.
Do you remember Christian in Pilgrim's Progress? He had to go through valleys of trials to reach the goodness that God had for him. Why would not God give us the same trials to lead us to the fullness of his joy.
Jesus told us,
I have told you these things, so that in me you may have peace. In this world you will have trouble. But take heart! I have overcome the world (John 16:36 NIV).
Did you get that? Jesus promised us trouble in this world. But he has overcome this world. Trouble in this world leads us to peace in God's world. Like so many things in God's world, this thinking is opposite of what this world will tell us.
Now that I've considered the joy of the many things that "went wrong" during the beginning days of the New Year, I'm experiencing the joy with peace as only God gave give. Mind you, I'm not going out of my way to look for trials. But I'm not going to give Satan the credit for something that God can use for my peace and his glory.
Do want a life full of joy? Accept the trials as God allows them. Enjoy his peace that is greater than the peace this world can offer, even without trials. "Rejoice, I say again rejoice" (Phil. 4:4 NIV).
What joy do you find in your trials?