This post contains affiliate links. Please see my disclosure statement.
I've been writing various blogs for nearly ten years, and have used WordPress for most of them. Why? It fit well with the writer me. I could tweak copy and images without having to tinker with code.
This past year, WP was kind enough to make changes so using the platform would be "easier" for me. I sure wish someone would have asked WP users. Every time developers make one of these helpful changes the forums light up with "What happened to ….?" Here's a couple of tweaks I have found to help work through the helpful changes.(Disclaimer: I'm not a WP expert. I'm only telling you what now works for me.)
Pasting from Word
Do you remember the little clipboard icon with the "W" in it? It was to paste copy from a Word document and remove Microsoft's extra coding. Worked great. Loved it. I like to write my posts in Word because often the post become a larger magazine article or a chapter in a book. One of the problems with the new system is, if you use two carriage returns (that's hitting "enter" twice for those who don't remember a typewriter), extra line spaces between paragraphs. You then have to go through and delete the extra lines. There are two options:
Use Word's "paragraph spacing" option. You will find it in the format ribbon or the menu item Format –> Paragraph drop-down menu. I find a setting of 6 pt after the paragraph just about right.
Don't hit "enter" more than once after a paragraph. Your document will look strange without the space between paragraphs, but it will paste into the WP editor window just fine.
Editing Graphics
I've always liked a little space around my images. The new WP has removed the option to add horizontal/vertical space and or border around your image. Gone. I couldn't even add the space in the HTML code. Hours of frustration before I found out that the new editor automatically adds the space and positions the image. Why did I tinker around for so long?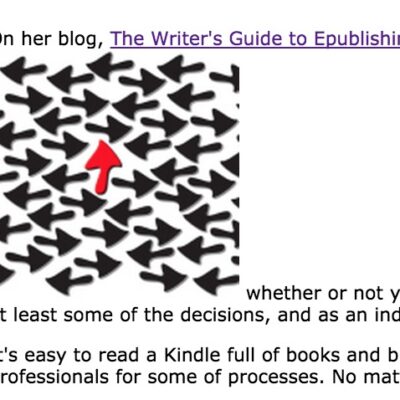 Because this is what it looks like in the editor:
The problem is that I thought it would look that way in my post. After reading support pages and other blogs, I took a look at the preview. Low and behold the space was there. (You can see how this image looks in the final post here.) Still no way to add a border, though.
Since most writers aren't programmers, tinkering around in the source code is generally not an option. A number of developers have created plug-ins to enhance the image editor to allow the WP users to make the space and border changes. I've tried a few and none work properly with the newest version of WP (4.0.1). (Update 10/27/2016: In later updates, WordPress has listened and vastly improved the graphics. The option to insert horizontal and vertical spaces is back.)
I don't want to spend hours with my blog posts, so I've accepted the situation as it is now. I continue looking for an option to have more control over the look of my blog. In the meantime, I adjust.
Check out these suggestions:
How to Add Padding and Borders to Images in WordPress
Do you have a handy-dandy way to work around the current WordPress version? Do you know of a great plug-in?