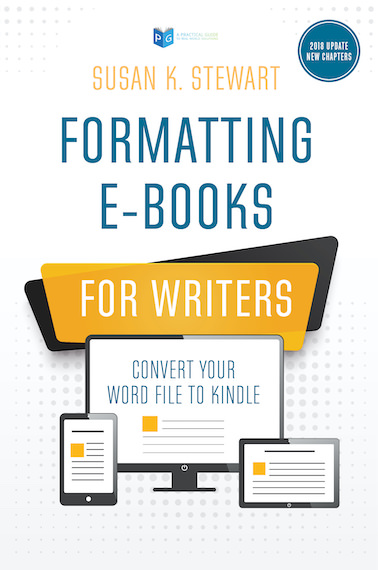 It's possible to prepare your manuscript without knowing the programming code used in e-books.
All you need is Word and step-by-step instructions. Practical Guide: Formatting e-Books for Writers gives you those step-by-step instructions in non-technical language.
Order Now!
About the Book
Susan K. Stewart is a writer, not a programmer. She has written, formatted, and published her own e-books. Formatting e-Books for Writers is written on practical experience and offers step-by-step instructions for taking your manuscript from a Word document to a published Kindle book. The content is based on classes Susan has taught for more than five years for writers and editors.
You will learn how to create links and clickable table of contents, insert images, and troubleshooting tips. Dozens of resources, Marketing tips, and instructions for Windows and Mac OS platforms included.
You will find steps to
Format your manuscript while you are writing
Create links and clickable table of contents
Insert images
Format your e-book for a good reader experience
Avoid annoying errors
Plus
Troubleshooting tips
Dozens of resources
Marketing tips
Formatting e-Books for Writers includes instructions for Windows and Mac iOS platforms. Chapters end with a checklist of tasks to Move Forward in formatting your e-book.
Endorsements
"So much wonderful information!"
– Linda W. Yezak, Writer/Editor, Circle-Bar Ranch Series
"A comprehensive, well-written and best of all, VERY easy to understand book that delivers on its promises to guide authors who have wanted to tip-toe in the waters of learning to publish e-books on their own."
– Mary Aucoin Kaarto, HELP for the LAID OFF
"Susan's insights are practical. I'm so grateful she has compiled them into a book. I could really apply this RIGHT NOW."
– Nicolas Nelson, Wordsmith Writing Coaches
"After taking the class, I think the book does an excellent job of bringing together all the finer details of formatting e-books. I feel this book is comprehensive enough to give even a newbie like me, a good big-picture of what formatting eBooks is about as well as an excellent guide as to how to do it."
– Sharon Ford, Freelance Proofread/Copyeditor
"Susan Stewart has written an excellent guide to self-publishing e-books. Susan formatted the guide in a logical fashion with easy-to-understand steps to follow for each part of the process. Anyone who chooses to self-publish should have Formatting e-Books for Writers ... they'll find the suggestions enable them to publish a professional book."
– Deb Haggerty, Elk Lake Publishing, Inc.
Other Books in "Practical Guides"
Disclosure of Material Connection: Some of the links in the page above are "affiliate links." This means if you click on the link and purchase the item, I will receive an affiliate commission. I am disclosing this in accordance with the Federal Trade Commission's
16 CFR, Part 255
: "Guides Concerning the Use of Endorsements and Testimonials in Advertising."