Who remembers hiding under the blankets with a flashlight to keep reading a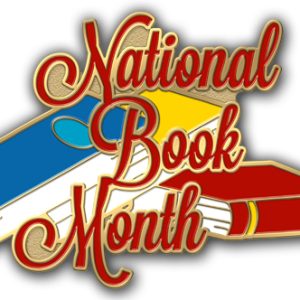 book after lights out? I certainly do. When my grandkiddos visit, I see a faint glow of an e-reader after bedtime has been declared, the 21st century version of flashlight and blanket.
We bibliophiles are known for lamenting the demise of the print book in favor of e-readers. In my mind, any way a child or adult reading is fine with me. I don't care how or what is been read (within limits for children) as long our society continues supporting reading.
In that quest, it's time to celebrate National Book Month.
This is a good time to make reading a habit, not just for yourself or for your children, but for your family as a whole. It is said to take thirty days to develop a habit. Start now and use the next thirty days to develop a family reading habit.
1. Read Aloud
It can be ten minutes during breakfast or at bedtime. Gather the family and read a story together. Don't worry about someone being bored or not understanding. Younger children understand more than we give them credit for. Any exciting story will capture their attention.
2. Read a book a month
Start a plan for each family member to read a book a month. Pick one day each month for book discussions at a meal. Even your non-reader can take part by telling about a picture book.
3. Visit the local library
I amazed at the number of people who don't go or may never have been to a library since leaving school. More goes on at a library now than just someone keeping voices down. Check out what your local library offers. Who knows, you may see a book that is begging for you to read it.
4. Write a letter to an author
After reading a good book, write a letter (or e-mail) to the author. Tell why you liked the book or who was your favorite character. You can find contact information on the author's website.
5. Write a book review
Amazon and Goodreads are just two website that encourage public reviews. Help your child write a review to post on one of these sites. When the review is seen online and shared with grandparents your child will be ready to read and review more books.
6. Re-read a favorite
What was your favorite book as a child? Mine? Maybe Black Beauty or Tom Sawyer or Fort Ticonderoga. I still have a pile of favorites. Read your favorite childhood book with your children. Good stories are timeless.
7. Organize a book swap
At the end of the month, have a book swap with friends and neighbors. Be ready to tell someone why your book should be read.
Developing the habit of reading improves writing skills, listening skills, history skills, and more. The most important improvement, though, may be the family together time. Reading together can become a family tradition. Start today.
What is your family's favorite reading activity?