Katie Hornor's passion to connect you with the tools, education, and community that you need to realize your own dreams of success.
She's been managing websites since 2007. Katie started blogging for fun in February 2011, for real in the Fall of 2012, and for success in the summer of 2013.
Katie knows what it's like to blog for hobby and for business, and the incredible amount of work it takes to bridge the gap between the two. In the last year she has quadruple page views, tripled subscribers, and more than doubled online income, and Katie is ready to help you do the same.
Special Giveaway Gift
Every person who signs up for this 2:1 Conference giveaway will receive 50% off the first month of Como Blog Connection.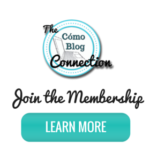 In Katie's words
Como Blog means "How to" Blog. The times I've seen the most growth in my business have been when I've had personal conversations (connections) with coaches and colleagues ahead of me who've helped me see my next step or figure out how to do what I wanted to do, specific to my platform. That is the why of Como Blog: to help others have the connections and coaching they need, applied to their site/business/situation to take their next steps to success, to get their product and message to the world, to grow their community and to increase their influence and income.
It's been proven over and over that you become like those you hang out with. If you learn from the best and surround yourself with like-minded people, your success will soar. The Como Blog Connection is a place that is focused on making sure that nobody gets stuck in their pursuit of success. We're a family, and make sure that we ALL succeed. If you're a business building entrepreneur who is struggling to take your business to the next level, being a member of The Connection WILL help you.
Monthly membership includes
Full library access
New content monthly
Live monthly coaching calls
Exclusive office hours monthly
Private Facebook forum
Bonuses